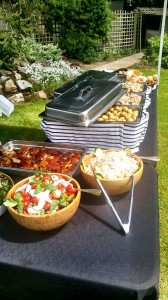 Spitting Pig Oxford is about many things, but there can't be anything to epitomise what we're about more than good food. We love food – good food, local food, exciting food, bold food, rustic food, exquisite food, but most of all we love hog roasts, because a good hog roast in Oxford can be all of those things and more. We are Oxfords own, one of the favourite catering companies in Oxford and we specialise in hog roasts and spit roast catering, and also hog roast machine hire for a hog roast in Oxford. We know what makes people tick and what makes good food, and knowing both these things makes us your best option for catering for your Oxford event.
The reason a hog roast in Oxford is best when done by us is because we're focused on the art of hog roasting and catering and have combined the 2 in a way that nobody else has, and that shows. The catering of Spitting Pig is distinct in more ways than one, we have the professionalism, organisation and business know-how that many hog roast enthusiasts have, and we have the hog roast and passion for food that's sadly lacking from many popular, professional catering set-ups.
Experts In Hog Roasting
The best of both worlds is what Spitting Pig Oxford represents and when people see our service in action they're in a position where they can't disagree. For years we've been going to events all over Oxford, at events that are indoor and outdoor, and mesmerising those present with a hog roast Oxford show for the ages. We encapsulate people's events long before serving food, virtually hypnotising them with every turn of the juicy, appetising, whole pig. By the time the food is served we've already got your guests, they're hog roast addicts and they'll make quick work of our divine culinary offerings at a hog roast in Oxford.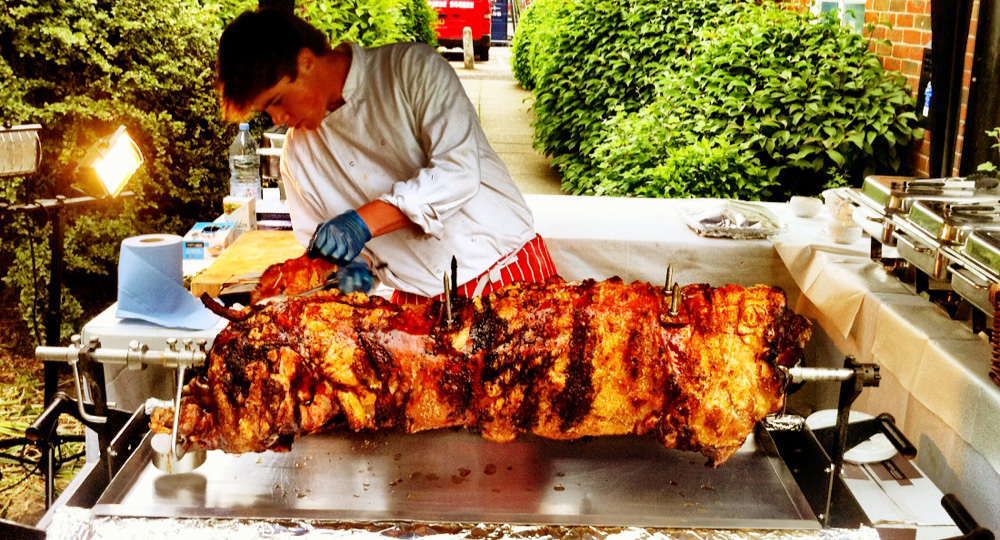 Spitting Pig began with a vision; the vision was to take hog roasting as far and wide as possible. To take hog roasting to a hog roast in Oxford at a wedding or a party, a corporate function or a fundraiser. We wanted to normalise hog roasting and make it as popular as we knew it should be, and that's why now for an event in Oxford such as a hog roast in Abingdon it's not as unusual as it once was to find a hog roast dinner on the menu, the word has spread about Spitting Pig and the delectable food that we specialise in. We can't claim to be inventors of hog roasts because a hog roast has been around for years; you'd be surprised at how far back hog roasting actually goes. Since then more than a few years have passed and the hog roast has had years to evolve and develop into the really yummy food heavyweight that it is today.
We love to boast about our famous pig roast, it's the best hog roast in Henley on Thames and we've built a loyal customer base around it, but the pig roast isn't all we can do for you. We have so many menus and each menu offers up something new and different, most of these menus have within them a selection of options for different meals and you'll find yourself surprised at just the great choice of canapés, soups, salads and desserts that there are in a lot of our menus. The key player in all our menus has to be the spit roast though, that's the game breaker for most people, but not everyone is as big a fan as the pig option as we are, a lot of the time our customers prefer a lamb, chicken, turkey or beef spit roast instead of the pig roast.
Showing True Passion For What We Do
What's also important to us is that we don't lose sight of what we are about, and one of the ways we've done this is to make ourselves available to all interested parties, for all events for a hog roast in Witney. That means if you come to us in need of catering for a small party that has only 17 people due to attend, we're here and willing to help you; if you need catering for an event not listed in the menu section, it doesn't matter, we'll cater for you without exception; if you're living on the outskirts of town in a rural location, we'll still cater for you; if you're all those things and have invited 17 people for a unique occasion on the outskirts of town, guess what, Hog Roast Oxford would be honoured to be booked for it.
Likewise, if your event is of epic proportions and right in the heart of Oxford we'd love to
work our magic for your guests as well. That's the essence of Spitting Pig, we define real food for real people and we don't think we're too big or too small for any event. We don't pull any punches in rating what we have as being one of if not the most remarkable hog roast companies in the region, but at the same time we aren't going to say no to a potential customer based on greed or a deluded sense of superiority, other caterers might, but not us.
We're beyond confident that you'll find our prices reasonable and we know you'll love the food we serve, and we give interested parties quotes for absolutely free, with no charges what so ever. There's nothing lost in asking for a quote to test the waters. We know that if you book Hog Roast Oxford for your catering services you'll be taken aback by not just the food, but also the super service that comes with it from start to finish. Now that you know who we are and what we're about there's only one thing left to do, take a look around the website, pick a menu and make a booking to secure Spitting Pig as the caterers at your special occasion.