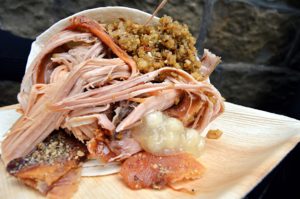 Abingdon's delightful location on the banks of the River Thames makes it a lovely leafy location for hosting all manner of events. If you are looking for a catering option that provides food that is as elegant as the setting, you will find it right here at Hog Roast Abingdon. You may not have considered hiring a hog roast company for your event because you may be under the impression that this kind of catering is only suitable for rustic, rural events, but this is where we differ. Whilst our food is of course a fabulous option for laidback outdoor dining, we have the versatility to also provide stylish modern menus that are suitable for local festivals, annual public events, sophisticated wedding receptions, corporate entertaining and all manner of private parties. We are able to cater for such a wide array of events because we aren't only the primary hog roast company in this part of Oxfordshire, we are also a very forward-think catering company who are continually devising increasingly diverse and surprising menus that truly do offer something for everyone.
Great Food For All Occasions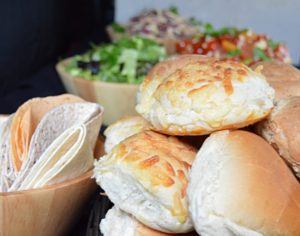 If you are looking for quality, quantity and variety for a reasonable cost, Hog Roast Abingdon are the ideal catering company for any upcoming event in Abingdon. Whether you are looking for a hearty hog roast spread to feed a large crowd, a beautiful buffet for a smaller gathering or a chic 3 course meal, we can provide it all. Our extensive menu options cover all bases in terms of appealing to different tastes and diets. Although we are primarily chosen for the quality of our expertly cooked, ethically reared pork, we are just as big a hit with diners who are looking for something a bit different. We offer an abundance of different slow roasted meats, vegetarian and vegan alternatives, and a combination of classic and contemporary flavours that everyone will love, all freshly prepared on-site using the finest locally sourced Oxfordshire fare.
If you want a beautifully presented and expertly prepared menu, and a bespoke catering package for any large or small event in Abingdon, the Hog Roast Abingdon team will exceed your expectations in the standard of food and service that we provide.