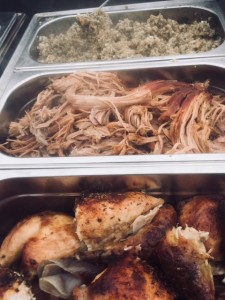 Over the years we have catered for a wide range of wedding receptions here at Hog Roast Iffley and no two are ever the same. Whereas some couples prefer to make it a tranquil and formal affair with a 3 course sit down meal and a string quartet playing melodiously in the background, the bride and groom we catered for last week, opted for a much more rip-roaring celebration with a boisterous barn dance! As we are able to tailor our wedding catering packages for any size and style of reception, we are just as at home in a rustic setting, as we are in the landscaped garden of a grand hotel. Our latest happy couple, Martin and Lucy, came to us because they wanted a catering company who would compliment the theme of their reception and who were capable of cooking everything in full view of the guests at their rural venue without compromising on quality. That's Hog Roast Iffley down to a tee!
When we arrived with our efficient mobile kitchen at the venue, it was adorned with simple and tasteful décor, with a stage area for the lively band, who arrived just after we did. Leaving them to do their thing while we did ours, the Hog Roast Iffley chef got busy cooking the couple's choice of slow roasted pork and organic whole chicken for the main course of their wedding meal. Our dexterous catering assistants were by his side assembling our delicate gourmet sausage, smoked salmon and feta skewer canapes, making sure they were presented beautifully for the bride and groom's entrance. A sudden frenzy of fiddle playing marked the bride and groom's arrival-not that we needed a 30 second warning, as we are always ready right on cue! Very soon the fizz was flowing, and our quick-witted waiting staff were mingling with the wedding guests and offering them our freshly made canapes, each one with flavours as varied and lively as the music!
The wedding reception was certainly a very fun and upbeat affair, with no one standing on ceremony or playing by the book! The laidback newlyweds were thrilled with our food and the way the Hog Roast Iffley team matched our style of service to the flow and feel of the celebration, rather than sticking to the rules!