It often pays to check travel plans before leaving. Fortunately this time I did, checking that my route wasn't blocked. It was a good job I did . It showed tailbacks of 17 miles. I thought that it would be best to avoid and so chose a different route to take. It turned out to be a good choice but was still fairly slow.
The event was a private birthday party and a good one for our famous Hog Roast Kennington, a simple hog roast with the added selections of jacket potatoes, grated cheddar and coleslaw, all freshly made.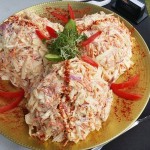 The set up was nice and simple, although the weather wasn't on our side. Luckily, the service area was under some trees and with round open log cabins with fire pits.
It was a very windy day and so important to strap the gazebo down.
My part was I think simpler to serve an hour before the party games started. Service was pretty much on time and the children were over the moon, as were the adults. Nearly all was gone within about half an hour. I started to clear up and load the van . In the distance I could hear three cheers .. when I returned to the cooking area I was told I had missed the gratitude for hog roast Kennington (three cheers!), and so they performed again with a little song at the end.
It was another great occasion for hog roast Kennington. It was great fun and was made even more special with a request for a repeat performance next year.