It is always a huge compliment that a request for a hog roast starts with…. Following the success of your recent event…..
This one came from a job we had done in Upper Arncott in August. The request that followed was for a retirement party. The details were wonderfully simple, – 'same as before'. We arrived at the same gate for the stables at the estate and made our way to the back of the kitchen for set up. There was a food festival offering an eclectic mix of foods and equipment. Pizza ovens are very popular, although not always practical for some houses!
The stables have been converted into various exhibition areas and a Café offering sandwiches and drinks. We set up the hog roast at the back of the kitchen so that we didn't interfere with the Food Festival that was going on in the Courtyard.
The weekend was a busy one and so it was a matter of setting up, and since there were two of us, one of us would stay.  Naturally I ensured that everything was on. The plan was to take everything round to the serving area at 5.30 pm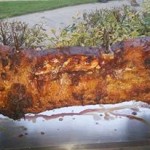 when the stall holders/exhibitors had packed up. The serving area is pretty impressive, a Patio that has the wonderful view.
All went well in Upper Arncott and hopefully more work for the future since it is now one of the few private houses that is available for private functions.
Kind regards, George