A centre offering adrenalin junkies exciting off-road driving experiences had just done a special prize draw promotion, giving the winners a free pass for the day. They wanted to give their clients a full VIP experience complete with food and refreshments, but their basic café was not equipped to cater for an elaborate meal. They needed outside help, and as our hog roast machines are also known for their off-road abilities and capacity to cook anywhere, they asked the Hog Roast Woodstock team to help them out!
With our range of elegant menus, we also know all about giving people VIP experiences and the centre manager John, was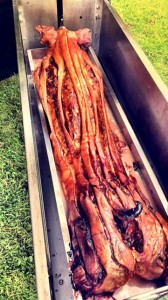 thrilled that we would be able to add a much-needed touch of finesse to the rugged surroundings! Like many people, he didn't realise the extent of what we offer and was surprised at our variety of different meats. He chose our sirloin of beef rather than a traditional hog roast, which is prepared using exactly the same fantastic slow-roasting method with equally delicious results and served with horse radish cream and our homemade red wine gravy. He wanted this to be accompanied by fresh, locally-sourced seasonal vegetables and our fluffy on the inside, crispy on the outside, rosemary roast potatoes. With a menu like that, John was sure he would be able to provide the experience he had advertised and even exceed the expectations of his prize draw winners!
John's special guests may have struggled to handle the terrain as they were guided around his route, but Hog Roast Woodstock had no problem at all getting our hog roast machine to the centre's HQ! Whilst the adventurous drivers revved their way up steep slopes and skidded back down them again, we were back at base camp preparing everything from scratch, ready to reward them for their endeavours at 1pm sharp when they returned from their escapade!
John's guests looked a bit dusty and saddle-sore as he led them into the dining area but they all seemed elated by their experience. Their elation increased even more when they saw the sophisticated meal the Hog Roast Woodstock team had prepared for them, and it was devoured with great enthusiasm! It was a memorable day for everyone, made even more so by some great food at the end of it and John couldn't have been happier with how it went!