After 30 years of faithful service to the same company, it was time for Neil to retire. He had been putting it off for as long as he could, as he was as reluctant to say goodbye to his friends and colleagues as they were to see him go, but the time had come to finally hang up his overalls. They wanted to give him the best send off they could and decided to hire his local cricket club, which was like a second home to Neil, for the event and asked a swing band to come along and play some of his favourite Rat Pack tunes. They had everything planned, apart from the food, as they hadn't managed to find anything that was befitting to such a special occasion. With the retirement party drawing ever closer, Neil's friends were starting to panic that they wouldn't be able to find a decent catering company at short notice and when they called Hog Roast Witney, they had already had several knock backs. So, when we told them we would be delighted to cater for Neil's retirement party at short notice, they were absolutely over the moon!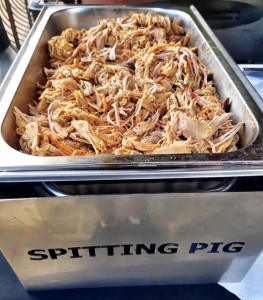 With disaster averted and a delicious menu of all of Neil's favourite foods to look forward to, his colleagues breathed a collective sigh of relief, and knowing the catering was in Hog Roast Witney's capable hands, they could shift their attention to sorting out the final details before the party to ensure they gave Neil an evening to remember!
After spending several hours at the cricket club freshly preparing our classic slow-roasted pork, garlic and rosemary roast potatoes and seasonal vegetables, we were ready with our contribution to Neil's night! With the band in full swing belting out Frank Sinatra classics, all his colleagues around him and our delicious buffet to dig into, Neil didn't have much time to be sad at his farewell party! He had a fantastic night, made all the more special by Hog Roast Witney saving the day at the last minute with some unforgettable food to give Neil the send-off he deserved!