There's nothing quite like the taste, sight and smells of a local, top-quality hog that's been prepared and cooked in front of you by Hog Roast Henley on Thames. We've spent years perfecting our craft, and this includes much more than hog and spit roasts too; we cook and serve all kinds of dishes for all kinds of palates and we always ensure that special diets are catered, as long as we have advance notice. From our sumptuous pigs in buns to a tasty chicken, turkey, lamb or hunk of beef roasting slowly for hours, a barbecue of burgers, ribs and sausages or our amazing Southern Slow Roast Menu that features no less than three different meats and four sides, we have something to suit carnivores of varying tastes. If you have gluten-free guests, we just need to bring along suitable bread rolls for them to be able to enjoy our pigs in buns, and vegans and vegetarians have plenty to choose from, including veggie kebabs, stuffed vegetables and burgers.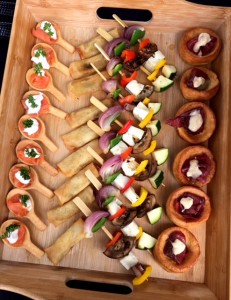 When Ron called Hog Roast Henley on Thames recently to book a hog roast centrepiece for his Diamond wedding anniversary celebration, he mentioned that his wife would have to make a vegetarian dish for their daughter. We told him all about our alternative options and he was more than happy to ask us to cook our veggie skewers on the day. Featuring chunks of halloumi cheese, and fresh mushrooms, peppers, courgette, red onion, and tomatoes, our skewers are very popular with vegetarians and carnivores alike, and we are sometimes asked to make them vegan, which we can do by not adding any of the halloumi.
Our Hog Roast Henley on Thames team arrived at Ron and Diana's home hours before service on the day of the party, and set up our equipment so we could prepare the meat to be roasted. Once the gazebo was up and the serving tables were out, the hog roast machine was turned on and soon enough the pig was sizzling. The couple's daughter came over to see what we were cooking and told us she was actually vegan, so we made sure that her skewers contained no cheese.
Some hours later and Ron, Diana and their guests were all devouring tasty food and the couple's daughter thanked us profusely for making delicious food that she was able to eat too.