If you're thinking of hiring caterers for your special occasion, Hog Roast Witney is the perfect solution for more than one reason. While we provide all kinds of tasty, homemade food that you and your guests will all love and devour in no time, the service we provide at the same time is second to none and has been applauded by so many of our customers, both new and old, who are always thankful that we go the extra mile. We get great feedback for those reasons and much more, and another is the fact that we offer so much variety and choice that you won't believe your eyes…
When Rachel called Hog Roast Witney to book us for a private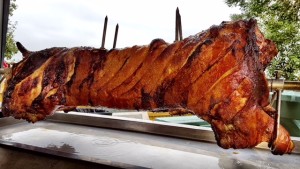 party at her home, she had already spent ages on our website, checking out the many options we have. Like many before her, she was surprised about the different dishes we can make, as we don't only cook hog and spit roasts. While both are our specialities, and we've spent many years perfecting them, we can also make other homemade food like barbecued or marinated meats, add sides like mac and cheese, chef's choice of salads, seasonal vegetables or new potatoes. We can cook dozens of baked potatoes in the same machine at the same time as a hog is roasting away above, or even the veggies and new potatoes instead. Plus the fact that we have lots available to cover dietary requirements means everyone you invite will be able to enjoy what we make.
Rachel booked us in to cook a centrepiece hog roast for her twenty guests, which we would carve up from fresh to make pigs in buns. Additionally, she asked us to provide a homemade coleslaw, a green leaf salad and a Greek salad, and our hot, herby new potatoes which would help warm everybody up outside in the autumn air along with the hog roast rolls.
When Hog Roast Witney arrived at Rachel's home at the weekend, the rain didn't dampen anyone's spirits. Our team cooked the hog and prepared all the other fresh food outside, sheltered by our gazebo, and then served it all inside, where the happy guests munched away until the early evening hours.