Summer might be over for another year, but the recent chill in the air hasn't deterred some of our more brave clients from enjoying the great outdoors; and with plans for an unforgettable mud run underway for Steven's surprise stag do, best man Eric approached Hog Roast Bampton to arrange a well-deserved feast for willing participants after the race. Spoilt for choice thanks to our expansive menus and bespoke catering options which have been expertly designed to suit all event styles and budgets, Eric needed some extra time to decide on the perfect package for the special event and a few days later called back to place a booking for our signature southern slow roast menu.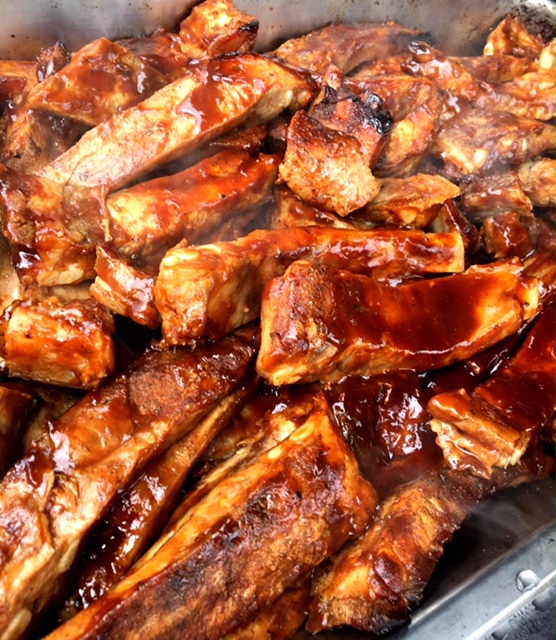 With the catering left in the capable hands of the Hog Roast Bampton team, all Eric had left to do was share the exciting news with the 40 guests and when he finally divulged his plans the week before the stag do, it came as a bit of a shock for Steven, to say the least, but the reward of one of our delicious hog roasts soon got him in the spirit!
On the day of the mud run, the Hog Roast Bampton crew arrived early to set up the catering gazebo and cooking equipment at the finish line where they effortlessly prepared the American cuisine inspired buffet while the stag party completed the challenging course. Finally, after an hour of crawling through tunnels, swinging on monkey bars, and diving into pools of muddy water to reach the next obstacle, their hard-earned feast was finally in sight.
Exhausted and starving from the afternoon's trial but still in high spirits, the guests eagerly filled their plates with generous portions of the succulent meats on offer which included BBQ pork butt, Louisiana sticky pork ribs and Texan 24 hour beef brisket which were complemented by the selection of side dishes of Memphis style crunchy coleslaw, buttery corn cobettes, Mac and cheese and Greek salad.
The food went down a treat with everyone in attendance and Steven has since reached out to Hog Roast Bampton to thank the team for making his last night as an unmarried man so memorable – even if it did involve getting covered in mud!