For whatever reason there isn't a traditional anniversary year named for enjoying great hog roasts, but that's okay because that must just mean a hog roast is for every anniversary year then – at the very least, with great hog roast catering services of Hog Roast Brookhampton it should be anyway!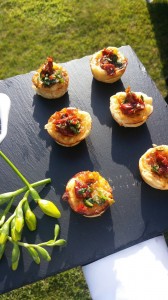 Yes, if you're celebrating an anniversary and want to do so in style with some great foods to properly mark the occasion then you won't find any better than Hog Roast Brookhampton. You need only ask our happy "gold" couple Mark and Miranda who brought Hog Roast Brookhampton out to their 50th anniversary event this past week to enjoy the very best in catered dining. The golden crisp colouring of our hog roast was well in tune with the occasion, and the rest of our catered beef, salmon, and beetroot starters, our many roast accompaniments to the main, our salads, canapés, and our creamy cheesecakes, chocolate tortes, and stick toffee puddings for dessert were all the perfect furnishing on top for a celebration between two who have been exemplars of love and marriage.
Mark and Miranda have been long time customers of Hog Roast Brookhampton (though perhaps not as quite as long as their 50 years of marriage!) and so we were all too happy to supply them with their favourite foods for their anniversary event. They went all out inviting friends and family for a full-on celebration that oozed style and magnificence – much like their relationship! There was just about enough food to give Mark and Miranda a course each for each year they've spent together!
Our anniversary dining services are the perfect way to celebrate your time together as a couple, or really any occasion, so get calling to Hog Roast Brookhampton if you have one coming up soon! You'll be given access to a whole range of brilliant foods that can be served in a variety of styles depending on what your event is. Formal and informal dining, table services or buffet eating, outdoor or indoor service, drinks services – we have it all to help you celebrate your love! So join Hog Roast Brookhampton today.