It was really windy as we set off early last Wednesday morning. We headed south to cater for the annual horse show, these clients who we have catered for several times before. We arrived and the guests were all there grooming their horses and getting ready to show them. We were shown to a nice space to cater from and set up our windproof, rainproof gazebo and we were ready to go!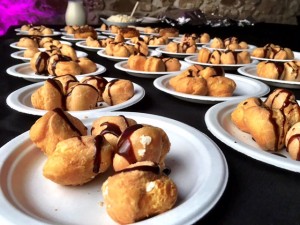 We wasted no time our staff got on with unloading the van and carrying in the machine and then it was a case of filling the machine with food. We placed lots of chickens and sausages on the machine and within minutes they were cooking away. On the table our chefs were busy slicing and dicing an assortment of salad vegetables and placing them in huge bowls. We make everything fresh on site at each event and feel this is a must and guests always comment on the freshness at all our produce. The aroma in the gazebo of the Hog Roast Elsfield food cooking was just mouth watering and we then unloaded all the freshly baked produce we had brought with us and placed it on the tables all our baked produce we bring is always baked fresh on the morning of the event if we could bake on site we would! We unloaded freshly baked buns and wraps an assortment of mini savoury pasties and some mini desserts. We could hear the show as we were cooking and as the last rosette was given we began to remove the chicken and sausages from the machine.
The chicken was so moist and tender and just fell apart full of goodness. The sausages were so good too full of meat the hungry guests were all keen to sample! We were soon seeing to the crowd and they were all saying that the smell of the Hog Roast Elsfield cooking had their tummies rumbling and they were saying how delicious the food was. It didn't take us long to get everyone fed and as we cleared away to come home we were asked if we could come again in a few months time? We said it would be our pleasure.