When Craig from Telfer Brandings came running to us in desperate need of a business lunch that will truly wow his prospective clients, we here at Hog Roast Forest Hill were only too happy to facilitate. Our Catering Manager always knows the best ways to put on a hog roast show for local businesses to attract new clients at hospitality dinners and business lunches. Ditch the packed lunches this week, because you're going to be dining out in style with the premium corporate catering package of Hog Roast Forest Hill!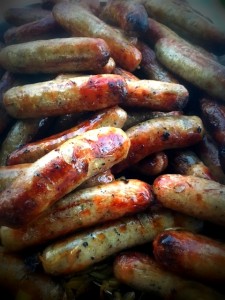 At Hog Roast Forest Hill we're all about supporting local business and community. You can see that in the way in which we continue to source our meats and stocks from local farm hands and vendors while also aiding local businesses with their own corporate events. We can get you set up with a hog roast machine all by yourself to make a day of it for your whole company, or, like Craig, let us put on a show ourselves with Our Catering Manager's expertise in hog roast cooking and dining. With the warmer weather and sunny days Craig opted for our BBQ menu – a gourmet twist on the classic British summer favourite. We were able to fire up the grill and roaster in the sunny outdoors and make gourmet BBQ to remember. With handmade beef burgers, our chef's own gourmet sausages, chicken kebabs and vegan grilled skewers, fresh salads and our delicious freshly made chips we're sure Craig and his client will have been more than happy with their lunchtime meal!
Hog Roast Forest Hill continue to support local businesses by linking up with closer relationships that allow us to more frequently provide you with special lunches and corporate dining. We're always more than happy to keep our favourite corporate customers close at hand to help out whenever they need. While Craig went for the BBQ this time, he expressed how much he'd love to try the classic hog roast of our name next time – and we'll be more than happy to oblige, Craig!
It goes without saying too, but under current circumstances too we kept everything entirely safe and within current COVID guidelines. After all, we would hate to spoil the day with harming our own customer's and/or their clients!