When you're deciding on the catering for your own party or event, taking into consideration the preferences of your guests is just as important as doing so with any special diets, as you need to know that everyone can enjoy the food that you serve and not just the majority of those invited. With Hog Roast Middle Barton, we can help you with this, as we have all kinds of delicious options available to suit different personal tastes, appetites and diets, regardless of the type of special occasion you have in mind.
Over the years, we've happily catered innumerable occasions, ranging from small, back yard gatherings to large functions in fancy venues, so no matter what you're organising, we can help to make it highly memorable for you and your guests, and with gorgeous, fresh food. If you're hankering for one of our amazing, mouth watering hog roasts, either made into heaps of pigs in buns (our version of hog roast rolls) or a plated meal, we'll arrive at your venue several hours before service, armed with fresh, local, top-quality meat that we prepare and then cook for a long time until it produces tender meat and crispy crackling.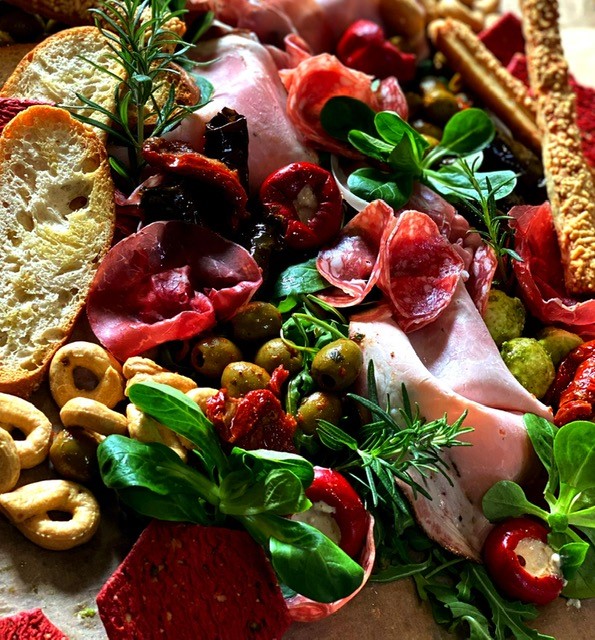 Nevertheless, if you prefer a different meat to be served, we have some great options to choose from instead, like a barbecue or spit-roasted beef, lamb, turkey or chicken, or one of our special standalone menus if preferred. Our Hog Roast Middle Barton Alfresco standalone features three courses of Italian-style starter platters, a main of a hog roast and two desserts, while our Southern Slow Roast includes three meat mains and four sides and our Loaded Fries come smothered in meat, slaw, jalapenos and cheese.
Vegans and vegetarians can enjoy delicious options like our vegan pulled jackfruit in a hickory barbecue sauce, served in buns and with coleslaw on the side, or our vegetarian grilled halloumi and veg wraps with chilli sauce and a Tzatziki dip, and we can also cater for food intolerances or allergies if needed. Plus if you're planning a multi-course menu, take a look at our wide range of canapés, starters, sides and puddings, as Hog Roast Middle Barton offers something for everyone.