Colleges and other academic establishments all around the country are coming to the end of the academic year. Hog Roast Yarnton's latest event was a small affair for the hard working teaching and administrative staff at the local primary school. The small party took place after the end of term on the staff member's final day of the year, and there was plenty of space to observe Covid-19 social distancing measures as the Hog Roast Yarnton team could set up the buffet in the playground.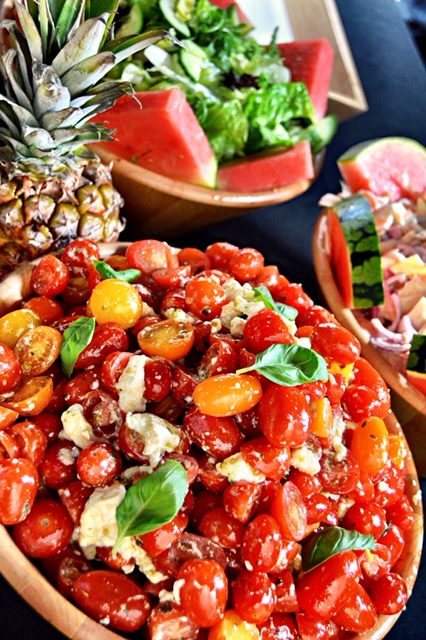 The client wanted a fun and filling buffet for their 25 guests, so they worked closely with the Hog Roast Yarnton team to put together a menu that would appeal to all. The buffet was set to be served at 12 noon and all the delicious dishes were made fresh at the venue in the hours between the Catering Managers arrival and the noon buffet serving time.
As part of the catering package the clients opted for, the Hot Roast Yarnton team provided high quality, re-usable wooden bamboo cutlery and crockery to use, which really added a rustic element to the party. Furthermore, at the end of the buffet the catering manager would tidy away the equipment and take all the rubbish away from site to dispose of it responsibly.
A whole array of tasty treats was spread along the buffet table. But before making their way along the serving table the guests used the hand sanitising station. Then they could help themselves to the tasty food. There was a Classic Hog Roast, with crispy crackling, homemade stuffing and apple sauce. Alongside this there was delicious BBQ pulled jackfruit, loaded fries, a mountain of skin on potato wedges and finally, a large basket of soft gluten free rolls.
The buffet was a feast for all. The guests tucked into the freshly prepared food with gusto. It was a thoroughly enjoyable event, the staff really relaxed and rounded off the troublesome and turbulent academic year with a beautiful outdoor buffet. It was an event very well done.