The catering market is packed full of so many different catering businesses, so it can be hard to know which business is the right one to choose for your event. When choosing a caterer, the most important factors to consider are usually budget, location and availability- but there are also a lot of secondary things that can help you to make your decision. Here is why you should choose Hog Roast Wheatley to cater for your event!
We specialise in slow-roasts
Our speciality is slow-roasted meats, including pigs, chicken and lamb. If you are looking for a caterer who can provide delicious meats that have been roasted to perfection, then we are the caterers to choose! Along with slow-roasting, we can also provide grilled, barbequed and spit-roasted dishes, so we have a lot to offer.
We can provide a variety of catering styles
Different events require different catering styles and Hog Roast Wheatley can provide a variety of different options. We offer alfresco catering, buffets and formal dining- or a combination of all three. With a catering style to suit every event, we can always provide exceptional catering.
We can cater to private and corporate events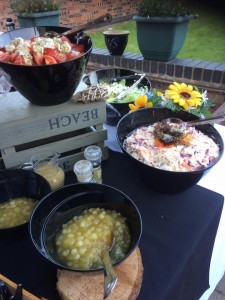 Hog Roast Wheatley cater to both private and corporate events, as well as weddings. The events we can cater for are endless, but we are most commonly hired for business seminars, corporate dinners, birthday parties, anniversaries, weddings and family gatherings.
We have a reliable and trustworthy brand name
Since we have been operating as a business for a long time, we have developed a reliable and trustworthy brand name. Our customers know that the catering we provide is nutritious, delicious and beautifully presented since we provide this for every event! As a result, we have thousands of satisfied customers and many who would never look elsewhere for event catering.
We can provide our fantastic catering for any event, so book today to avoid missing out. To book your Hog Roast Wheatley catering, simply let us know your event date, location and party size.