Hog Roast Boars Hill is overjoyed that people can finally have guests to their weddings, even if it is only 15 people! It is a step in the right direction and there is nothing stopping you from having a massive party next year to celebrate with ALL your loved ones! The government guidelines state that Hog Roast Boars Hill can still cater at these small celebrations so you can still enjoy a tasty wedding breakfast!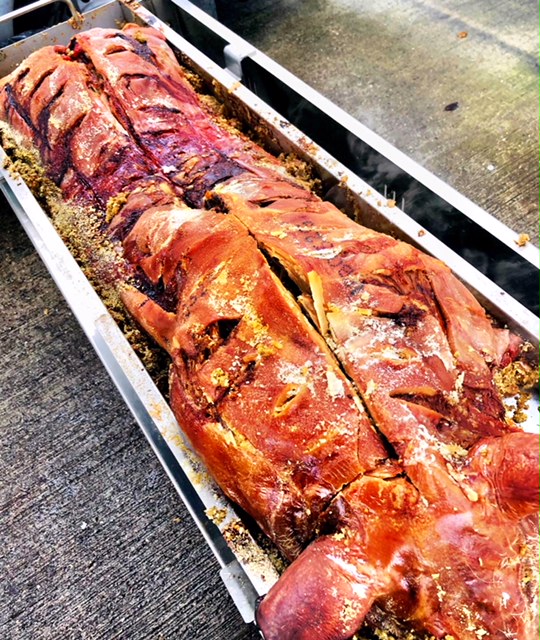 Hog Roast Boars Hill believes there is a perfect wedding menu for 15 people. Instead of having a whole roasted pig, how about a whole roasted lamb? A whole roasted lamb is the perfect size for feeding a small amount of people and is cooked to perfection with the meat falling off the bone and being completely succulent and tender. It still has that theatre aspect, especially if you choose a spit-roasted pig where it cooks on a pole turning over flames. Similarly, to a traditional hog roast, the lamb roast is still served with soft bread rolls, stuffing and a selection of sauces. The sauces include mint, mustard and dill and wholegrain mustard.
The whole roasted lamb can be served with either three salads or seasonal vegetables. Hog Roast Boars Hill has many salad options to choose from, including gourmet coleslaw, pesto pasta salad or tomato and mozzarella salad. On the other hand, seasonal vegetables usually include a medley of carrots and greens, cauliflower cheese with a potato option. Hog Roast Boars Hill would highly recommend garlic and thyme infused roasted new potatoes as this option compliments the lamb well. If seasonal vegetables is chosen, then the meal will also include gravy.
You can tailor the menu to what you want, some may want Yorkshire puddings with the vegetables and meat, others may prefer joints of beef over pork or lamb. Hog Roast Boars Hill can also include a starters, canapés and desserts as well as a main course, just browse the websites or phone and enquire with what you are thinking, the staff are happy to help!