A rainy day may dampen your spirits a little, but it doesn't mean you have to cancel your hog or spit roast. We can come and cater for you at any time of day, any day of the week and in just about any weather. Our marquee can save you from getting wet but even if it's great weather, you can actually choose to have your roast cooked indoors rather than outside. Many customers choose to have their events indoors in the colder months of course, say for a Christmas party or a winter wedding. Nevertheless, some customers may prefer an indoor party with an indoor roast or barbecue during the hotter English months, just like Jean and Brian wanted over the weekend.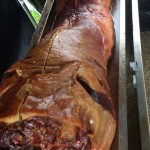 When Brian called us to book our catering company for a hog roast in Yarnton for his wife's 70th birthday, he let us know that the party would be at their house but they needed it cooked and served indoors. Unfortunately, Jean is unable to leave her house but she still wanted to be a part of the hog roast Yarnton spectacle, as well the tasting of it on her special day. Now as long as the space is fairly large and well-ventilated, this isn't an issue, but, sadly, the lovely couple's house had rooms that were just too small for us to do this. Thankfully, though, we managed to find a compromise, where Jean could watch us through a downstairs window, seeing us cooking and carving the meat outside before the guests all ate their food in the house alongside her.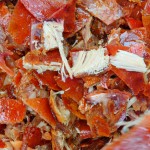 As Jean watched from the dining room window, we set up our equipment and began to roast the large pig that she was looking forward to trying. As it slowly cooked, we managed to have some very interesting chats with the couple inside before the guests started to arrive. There were lots of oohs and ahhs from family and friends who gathered round the hog roast in Yarnton as it cooked. As they breathed in the wonderful aromas filling the garden and drifting into the house, I began to carve and took the first cuts inside to Jean and Brian, together with soft rolls, some crackling, stuffing, apple sauce and condiments. Their response was a resounding thumbs up. We then happily served the rest of the guests outside, who poured inside the house to join the couple to enjoy their juicy meat rolls.