Although this was a college I know well, I still decided that a couple of visits was important. The May Balls can be fairly lavish affairs with plenty going on. This was no exception with all sorts of areas for a variety of activities and moods. We were providing a hog roast in Headington for 1100 students which included some 250 vegetarians. We were also asked to provide bacon rolls at 4.00 am for 550 which also included 150 vegetarians. Then there were the coeliacs, all making it slightly more fun.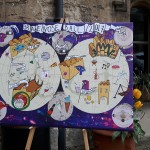 The College held a special place in that both my daughters' had studied there and so I was familiar with the layout and what to expect. Fortunately nothing has changed, thankfully. We arrived at 1.00pm and were fine for parking once we had got the barrier raised. We had pulled up in the Radcliffe Square opposite the Bodleian Library & Radcliffe Camera. We pulled the machines over the cobbles which is always a little tricky. Our set up was along side the chill zone, which was a relief considering the volume of music coming from other marquees – zones. We had allowed plenty of time to ensure that we were ready in good time. We knew that once the gates opened at 7.45 there would be a mad rush and this was why we had set up three Hog Roast Headington stations to feed the 850 meat eaters and a station for vegetarians which was reckoned to be about 250.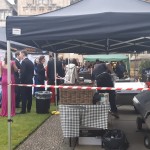 The build-up was intriguing as all the students filled the Radcliffe Square, which made parking a little tricky for the second shift arriving at 7. However all seemed to get sorted. Sure enough at 7.45 they all poured in – the girls in their best refinery and the blokes in their evening suits. After about an hour we had done most of the people with a trickle thereafter. Surprisingly the Falafels went quickly, but there were plenty and the Hog roast in Headington continued until midnight.
There was then the second phase at 4.00 am. Bacon rolls had been requested alongside a vegetarian sausage. This time it was slightly easier with 550 in total, being about 400 bacon rolls and the rest as vegetarian. By about 5.00 am all was over and it was back to base for a well earned night's sleep – day's sleep.