If you're yet to enjoy a hog roast, then now is the time to start, while the weather is so glorious. On that note, I catered for newbie Gloria's first ever hog roast in Appleton earlier today, for her 60th birthday celebration. Her husband Ron called us a couple of months ago asking about our catering service, as he had been recommended by a friend. Ron was concerned about the size of their garden, though, and wondered how small would be too small for the spectacle of a hog roast. I explained that the machines that we manufacture and use are mobile, easy to manoeuvre and as long as there is space for it and ventilation around it then we're good to go. Ron booked us for the intimate birthday party and earlier today I went along to the couple's house.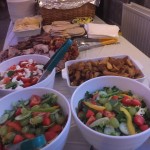 I arrived late morning to roast the small pig for around 3 hours, for a late lunch serving. The back garden was fairly small as Ron had said but I managed to set up in a nice spot, shaded by the gazebo against the hot sun beating down on me. Ron and Gloria were very interested to find out about the hog roast machines that we make in our own factory and sell to customers, as well as the fact that we hire them out so you can DIY. After watching me prepare the pig, it looked like Ron was bitten by the hog roast bug, as he started discussing possibly buying a machine sometime in the future.

Once the pig was salted (which is how we get that lovely crackling) and roasting away, I just had to keep my eye on it while I chatted to the lovely couple. Time flew by and it was soon time for their close friends and family to arrive, so I got on with prepping the fresh salad and rolls and setting out my serving table, ready to start carving. The last guest arrived as I started to get all the crackling off, then I carved gorgeous slices of pork to fill the buns along with stuffing and apple sauce. At one point, there was complete silence in the garden as the group of people sat simply enjoying our delicious Hog Roast in Appleton.