With one of our Hog Roast Cumnor special standalone menus, you can take your next party or event to another level! Our mouthwatering Southern Slow Roast brings you not only three different marinated meats of your choice, all roasted low and slow on the day of your special occasion, but also four sides and with both hot and cold options of the latter.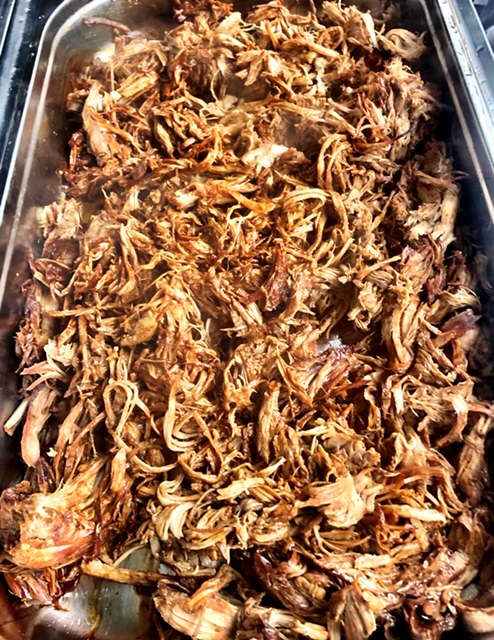 You get to choose mains from barbecued pork butt, whole chickens, sticky pork ribs that fall off the bone, Texan beef and spiced lamb, as well as sides from corn cobettes, mac and cheese, sweet potato wedges with a kick, coleslaw, skin-on whole jacket spuds, a seasonal green leaf salad and a Greek salad. The meats are accompanied by a trio of tasty sauces and there's even a homemade vegetarian option of halloumi and veg wraps, which can be made vegan if needed, by omitting the cheese.
For a corporate function that Hog Roast Cumnor catered yesterday, this menu was requested by our customer, with four mains of pork, ribs, chicken and veggie wraps, as well as wedges, mac and cheese, coleslaw and a Greek salad which everyone could enjoy. Over several hours, our team worked hard to create a feast of great proportions, with something for everyone invited, and we love making this happen as we always ensure that varying tastes, appetites and diets are catered for.
It may surprise you to know that we have plenty of choice and variety on offer, and with various main options including spit-roasted and barbecued meat, multi-course menus that feature your choice of starters, sides, desserts or even canapés, as well as dishes to suit all kinds of diets, Hog Roast Cumnor aim to please everyone and not just the majority of guests.
For yesterday's event, we arrived early in the morning in order to start roasting the trio of marinated meats, which slowly but surely cooked to perfection and filled the surroundings with gorgeous meaty aromas. During the day, we freshly prepared the sides and the veggie main course, and then by 2pm, we had a late lunch ready and waiting to be devoured.