At this time of year we spend a lot of time chasing potential business, repairing our kit and just tidying up. It is therefore a blessing when a large job comes in. This was a hog roast in Oxford for 2,500 people over two days. Homebase has been bought out by Bunnings Warehouse. Bunnings Group, trading as Bunnings Warehouse, is Australia's largest household hardware chain. The chain has been owned by Wesfarmers since 1994, and has stores in both Australia and New Zealand. Their first store is in St. Albans and obviously the first of many if the pilot scheme goes well.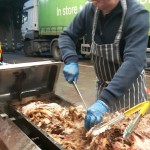 The first event was on the Sunday and although numbers had reduced, it was still expected to be busy with somewhere between 750 and 1000 guests. We had set off early although our entry time had been altered to 7.45 . It was the usual trip down the M40 I was thinking, 'it's not very busy for a Monday'. I was soon put right. Once we had arrived we were ready to set up. There was however a hold up. Since the store was looking pristine the Bunnings team wanted to do a 'fly-by'!!  This was a gyrocopter that would hover down all the aisles with the store empty. Fortunately we could still set up in the yard.  The only problem was the yard was being used and we had to make sure that all the staff had hi-vis for all the time they were in the yard.
We got all set up to cook and it was then to carefully tackle the set for the stations in the garden centre area. We had three serving stations for hog roast and a coffee/tea + soft drink station. It also turned out that we were competing with a sizzling sausage station. Apparently a Bunnings tradition. We were surprisingly busy with all going to plan. The only adjustment was to nip over the road for some emergency supplies of fruit shoots. Once we had reached 4.00pm it was a gradual clear up to get on the road for 5. Fortunately it was Sunday night and so the roads weren't too bad and so need to divert.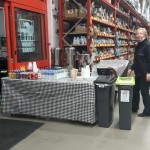 Once we were back we had to do a quick unload and get ready for the same again the next day. This time it was slightly later with a 5.00pm serve. The numbers were also slightly less . There was however a little surprise in that the area that we had used the day needed to be kept clear. After a few minutes we found some where nearby to set up. It turned out to be a little better. We had arrived a little earlier, since we had access this time. It just made it all a little less frantic. This time it was for all the suppliers and management + directors. All went well and it is was much easier in that we knew what to expect. Once we had finished at 7 it was time to clear up which all happened fairly quickly, although always slightly testing after a couple of days of full on. We were son on the road and back home by 9.30. Everyone was happy and there was even potential of more events with Homebase and Bunnings.