With a Hog Roast Headington hog roast machine hire, you can spoil your own customers with a great tasting centrepiece hog roast and wow them with a theatrical sight that they'll remember for a long time to come. Your rental is always all-inclusive and includes not only the machine delivered to your chosen venue and pick-up afterwards but you also get to benefit from one of our experienced and highly-trained chefs, who will walk you through the process of using the machine and how to get the best out of it. We can even bring along the meat if needed, for an additional cost, and it's the same local, free-range, high-quality meat that we use ourselves when catering.
You may be surprised to hear this but you can actually cook a whole lot more than a sumptuous hog roast with one of our machines, as the inside works just like a conventional oven. If you need to make some pizzas, it's no problem! Although most of our customers will often use the inside to cook vegetables and potatoes for their customers if needed, so they can enjoy a whole plated meal rather than hog roast rolls.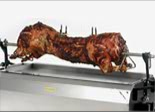 If your customers prefer you to cook up a storm with spit-roasted meat like lamb, beef, turkey, chicken or something a bit more exotic, you can use our special attachment in order to do so. We also have a barbecue attachment, so you could make burgers, sausages, ribs and all sorts with one too. Our hog roasters are evidently so incredibly versatile, and that's just how Hog Roast Headington designed them to be. You see, we make our own equipment in our Lancashire factory, where we build our trusty machines by hand, and we sell them as well as rent them out, and they're always the ones we use ourselves when catering.
So if you're a caterer looking to hire equipment from us for a one-off event or multiple ones, Hog Roast Headington are the ones to call and we're sure that once you've tried cooking with one of our machines, you'll be hooked, and you'll be back to rent again – or you may even decide to buy one for your business in the future.