We recently got a call from a party organiser who needed both a hog roast in Elsfield and a spit roast for an event, as well as some extra items including salads and a veggie option. Whether you need catering for a casual shindig or for a fancy affair, we can provide all kinds of different foods for every kind of budget and we love to specialise in roasts. You may not know the difference between a hog and a spit roast but, essentially, a hog roast is where the pig is cooked on a large roasting tray and a spit roast has the meat rotating on a pole.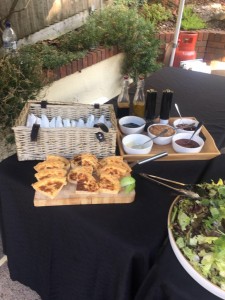 For this occasion, the organiser wanted our extremely popular option of hog roast rolls, which is slices of pork and crackling in fresh bread rolls, together with our lovely stuffing and apple sauce. She also asked us for a chicken spit roast, so we provided a locally-sourced free-range spit roasted chicken that is served with stuffing and our fantastic homemade onion gravy that always proves to be well-liked. Additionally, we needed to provide several salads, which we prepare fresh on the day, and the vegetarian option of our tasty, homemade spinach quiche.
We arrived at the party in the early afternoon on Sunday, ready to cook the host roast in Elsfield for several hours and the chicken for much less time. We set up the gazebo and serving table and turned on the hog roasting machine. Preparing the pig doesn't take too long and in this instance, it attracted a few bystanders who wanted to learn more about the art of cooking in this way. We score it all over from one side to the other, add water and cover it in salt. You need to slowly roast a pig so that it doesn't dry out or burn. This one took 5 hours of constant cooking until it was lovely and juicy on the inside and the outside was covered in crunchy, golden crackling.
Meanwhile, we had started cooking the spit roast chicken and then finally it was time to prepare the rest of the food. At the end of the day, we knew it has been a great success as everything had been stripped clean! A great hog roast in Elsfield.