We've loved catering for varying types of events over many years now, with lots of different food options, but some people don't know that we can do this yet. Despite our name, we can cook so much more than hog roasts. You may be keen on having a speciality roast for your party or function, like a spit roasted pig, whole lamb, or beef sirloin. We can cook just about whatever you have in mind and can adjust menus to suit.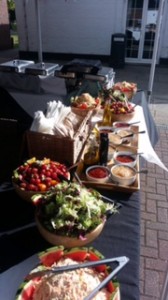 When Leon came to us to ask if we could cater for his large corporate event of 100 guests with a hog roast Bayworth and a spit roast chicken, we were more than happy to oblige. He asked for our hugely popular hog roast rolls, where the freshly-cooked pork slices are served inside floured bread rolls and topped with crunchy crackling pieces, our lovely sage and onion stuffing and well-loved apple sauce. For the spit roasted chicken, we often served this with chipolata sausages, stuffing and a tasty homemade onion gravy, but Leon asked us to change this to a piri-piri glaze, which wasn't an issue. A set of crisp mixed salad leaves, coleslaw and warm, buttered new potatoes (which would be cooked in the tray underneath the hog and finished with a lovely herb dressing) would complete the corporate lunch.
We arrived at Leon's business premises early on Monday morning. Both the hog and the chicken we'd brought with us for the event were locally sourced from trusted farmers, as always. The hog roast Bayworth itself would take several hours of slow roasting. The chicken wouldn't take as long, but both needed a good bit of prep work first, so I got onto that, sheltered from the morning sun under our gazebo.
Nearer to the time of service, while both the chicken and the pig were cooking away, we started preparing the salads, sauces and bread rolls. The businessmen and women were taking a break from their event to enjoy our delicious food, and soon around a hundred of them would be queuing up to get a taste of our lovely pork and chicken sandwiches.