The modern day hog roast Dorchester has grown more and more popular over the past few years especially and we now cater for so many different kinds of events and parties. Of course, this style of cooking has actually been around for thousands of years, but in terms of contemporary catering, gone is the time when a hog roast Dorchester was just for a wedding feast. Now we have also have bookings for birthday parties, christenings, engagements, hen and stag parties, adoption parties and even for a Sunday barbecue with friends and family. Whatever occasion you can think of, you can enjoy our hog or spit roast catering.
For Gisele and Jimmy's party earlier today, it was a post-wedding celebration, as they had married on the spur of the moment while on holiday in Las Vegas, but still wanted to celebrate their happiness with friends and family back home. They asked us to provide our delicious hog roast roll menu (which they had both enjoyed earlier this year at a friend's engagement that we catered) as well as a couple of salads.
My team and I arrived at the couple's home and set up the gazebo in the large back garden while it was being decorated (in a Las Vegas theme, of course!) As Jimmy was thinking about hiring one of our own hog roasting machines, he stopped decorating to watch as I prepared the hog. It's easier than you may think, as Jimmy was surprised to find out when I scored it, poured water on it and then covered it in salt to produce the crackling. Then I turned the machine on and let the beast roast away while I kept a close eye on it (and meanwhile booked Jimmy in for his first machine hire next week!)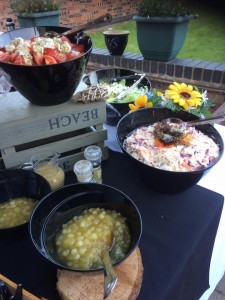 When the hog roast Dorchester was nearly cooked, we cracked on with preparing the fresh green leaf and tomato and basil salads, slicing the floury bread rolls and arranging the stuffing and sauces, including our homemade apple flavour. The guests had all arrived by the time the meat had rested so we put on a bit of a show, slicing bits of crackling off and carving pieces of tender, juicy meat. These were piled into the rolls together with the stuffing and apple sauce and were devoured by lots of hungry people who returned for more.