At Hog Roast Ducklington, we always make the most of any chance we get to attend outdoor markets – especially at this time of the year. We think you'll agree that nothing says autumn quite like some hearty street food. And the buzzing atmosphere is something that, in our opinion, just can't be beaten.
Already, we've attended a fair few festivals this year, with the most recent having taken place in the middle of last week. After getting a heads up on the event from the organiser, Martin, our catering crew, couldn't wait to get involved in the festivities.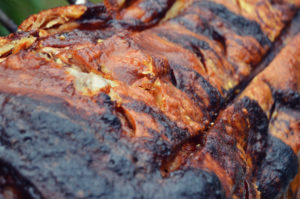 For this event, though, our Hog Roast Ducklington team had to travel quite a distance outside the area we typically cover, which meant a bright and early start last Wednesday morning. With plenty of coffee to perk them up, the crew trundled off to the town centre venue where they were one of the first to arrive.
Doing what they do best, the team promptly pitched the catering gazebo and lifted the pig into the rotisserie machine where it spent the next six and a half hours slow roasting over a low flame. Making sure the juices that dripped from the succulent meat didn't go to waste, the team spread a thick layer of savoury stuffing on the base of the machine and left it to cook while they turned their attention to the sides.
With the meat slowly spitting away, Hog Roast Ducklington prepared the meat-free alternative of grilled veggie kebabs with tzatziki dip and flatbreads, along with the inclusive side options of crunchy coleslaw, cheese and jalapeno smothered loaded fries and a trio of freshly-tossed salads, bordered by slices of refreshing watermelon
Time passed quickly, and before anyone knew it, the site was busy with other socially-spaced vendors all preparing for the locals to arrive. The scents from the hog roast wafted through the air, leading many guests straight to our serving table where they eagerly collected a plateful of juicy pork with the assortment of side dishes. Our food was an instant hit, with some people even coming back for second helpings of the delicious grub!